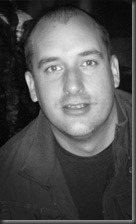 AGE: 34
HEIGHT: 6′ 1″
PROFESSION: I.T
SPORTING LOVES AND ACHIEVEMENTS:
Any sport that does not involve animals. Achievements – 2009 R/Up in Devon XI !
(That's about it except winner of 1993 Shillingstone to Blandford boat race ).
MOST ANNOYING HABIT:
Telling my brother sports results of events he has recorded to watch later!
MOST OVERUSED PHRASE:
Did you know that………
FAVOURITE SANDWICH
Triangular ones.
TOP SKILLS FOR EXPEDITION:
Liverpool FC supporter. Likes Fire Engines. And can't wait to drive through Red Square in Moscow!
BIGGEST FEAR:
Small monkeys. The smaller the monkey the more I think they are going to hurt me.
TOP 3 ITEMS TO TAKE:
Maps. Money. Munchie

TOP 3 SONGS FOR THE RADIO:
Willie Nelson – "On the road again"
The Killers "Dustland Fairytale"
Elbow "One day like this
REASON FOR GOING:
For Dad. (And to help Steve get going in the right direction otherwise he would end up in Cornwall)