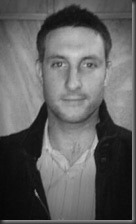 AGE: 31
HEIGHT: 5′ 9″
PROFESSION:
Derivatives Strategist
SPORTING LOVES AND ACHIEVEMENTS:
Swimming (competed at international events as a kid), Triathlon, Snowboarding, Rugby. Love kitesurfing though I'm not very good (yet)
MOST ANNOYING HABIT:
Being useless
MOST OVERUSED PHRASE:
Sweet
FAVOURITE SANDWICH:
Ham and bolied egg with mayo, French mustard and branston pickle
FAVOURITE FIRE ENGINE:
Volvo Saxon
TOP SKILLS FOR EXPEDITION:
Chat
BIGGEST FEAR:
Failure
TOP 3 ITEMS TO TAKE:
Kite (I'm convinced I can attach myself to the fire engine so I can parasail off the back!)
Camp fire
Swiss army knife
TOP 3 SONGS FOR THE RADIO:
Eminem – Sing for the moment
Andrea Bocelli – Time to say goodbye
Matrix Soundtrack – Clubbed To Death – Rob D
REASON FOR GOING:
Chance in a lifetime and it's really not very easy. Also need to keep Steve company. He hates being alone.