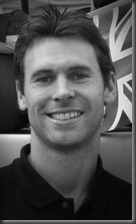 AGE: 31
HEIGHT: 6′ 3″
PROFESSION:

Professional Golfer
SPORTING LOVES AND ACHIEVEMENTS:

Crystal Palace (Come` on you Eagles!!), Golf, Tennis & Now training for the Marathon
MOST ANNOYING HABIT:
 Still thinking I`m a teenager!
MOST OVERUSED PHRASE:
"Alight Geezer!"….. I`m from the South East!
FAVOURITE SANDWICH:
Clean Answer… Warm Beef and Horseradish! Mmm!
FAVOURITE FIRE ENGINE:
Fireman Sams one… Legendary speed!
TOP SKILLS FOR EXPEDITION:

Patience, Enthusiasm and Willingness to Succeed
BIGGEST FEAR:
Missing out on life…. Saturday night in Watching X Factor!
TOP 3 ITEMS TO TAKE:

Camera, iPod and Russian Phrase book
TOP 3 SONGS FOR THE RADIO:
Flux- Bloc Party,
When you were young – Killers,
Long Live the Queen- Frank Turner…. Tunes!!!
REASON FOR GOING:
To repay something back to the ALL the people that helped my family. To have an experience that comes across you once in a lifetime