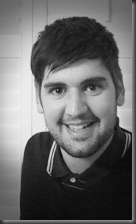 AGE: 31
HEIGHT: 5′ 10″
PROFESSION:

Senior Commercial Manager – TV content
SPORTING LOVES AND ACHIEVEMENTS:
Football. Golf. Sport Fishing. Table Tennis
MOST ANNOYING HABIT:
Saying 'NO' to something when I ultimately know I will end up saying 'YES'
MOST OVERUSED PHRASE:
Whatever

FAVOURITE SANDWICH:
Crispy Bacon, fresh fresh bread
TOP SKILLS FOR EXPEDITION:

Resilient, Organised, Positive, Sense of humour
BIGGEST FEAR: 
Sharks. If there are sharks in the sea, don't go in. Right?
TOP 3 ITEMS TO TAKE:

Sense of humour. First aid kit. Aviators

TOP 3 SONGS FOR THE RADIO:
Go Your Own Way – Fleetwood Mac
Get Outta My Dreams, Get Into My Car (Fire Engine) – Billy Ocean
To Be With You – Mr Big
REASON FOR GOING:

Supporting a very worthy cause and an extremely determined crew