FOLLOW THAT FIRE ENGINE is an awe inspiring expedition that has never been attempted before. A crew of friends plan to achieve Guinness World Record status by circumnavigating the globe… in a fire engine!
FOLLOW THAT FIRE ENGINE is dedicated to the memory of Garth Moore, who passed away on 18th July 2009 at the age of 63, after a brave battle with lung cancer. Garth was a Fire Fighter at Wimborne Fire Station in Dorset and dedicated his life to fighting fires and saving the lives of others, over the course of his 33 years in service.
His son Steve Moore is FOLLOW THAT FIRE ENGINE's expedition leader. The goal of is to raise money and awareness for three charities; Macmillan Cancer Support, The Fire Fighters Charity and The Roy Castle Lung Cancer Foundation.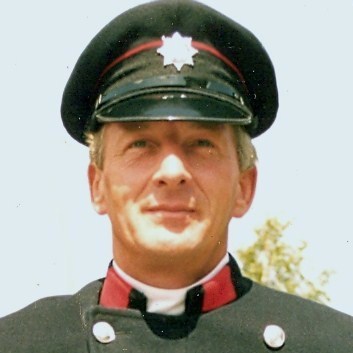 100% of the money raised will go to the three charities via the FOLLOW THAT FIRE ENGINE CHARITY. Shipping, fuel and living expenses will all be funded by the crew members.
Your support through sponsorship and following thecrew on this exciting and unforgettable expedition will be vital in helping them succeed – in what will surely go down as the longest emergency call out in history!
The Crew will drive a fire engine an impressive 26,000 miles, through 28 countries, over 9 months, covering gruelling terrain, inhospitable territories and in extreme temperature conditions. The vast distances and many unknowns of the expedition will be both physically demanding and mentally challenging. Most days the crew will spend over 10 hours on the road.
The crew will be driving a Mercedes 1124 AF. The truck is designed for short, quick journeys. It will provide plenty of storage space, essential for the camping equipment and supplies required to be on the road for 9 long months. However, the fire engine is not designed for comfort or speed, so it's certain to be a bumpy ride.
Overnight accommodation will be a similarly no-frills experience as the crew plan to camp out wherever possible. In towns and cities where pitching a tent is not possible the crew hope to stay with welcoming locals and, in the process, discover and learn as much as they can about the different countries that they will be passing through.
One of the most difficult challenges the FOLLOW THAT FIRE ENGINE crew will face is traversing the world's oceans – 11,000 miles of open water. "The Globalink Network", a network of freight forwarders, are an official partner of FOLLOW THAT FIRE ENGINE. They will assist in the logistical nightmare that is shipping. Their agents will help in dealing with the shipping lines, customs and being a friendly face at each of the ports.
100% of money raised will go to three charities through the FOLLOW THAT FIRE ENGINE CHARITY. Shipping, fuel and living expenses will all be funded by the crew members.
The crew need your support to raise as much money as possible for three truly worthy charities, please help support them.