TEAM BARCELONA
This team had an impressive total of zero half marathon and marathon races completed between them. What they lack in experience they will make up with team spirit, guts and paella!   The team completed the Barcelona marathon on 7th March 2010, see Race Report Below.
[flickr album=72157623767733799 num=7 size=Square]
TEAM MOTTO
Més que una marató/ More than a marathon,  a play on the Barça motto Més que un club (More than a club).  If you don't understand, don't worry: nor does anyone else, except for George!!
MARATHON SUMMARY
A loop course around the Catalan capital taking in all the famous tourist attractions, including Gaudí's Sagrada Familia, Camp Nou, Port Olympic, and La Rambla.
A relatively flat route makes this is an ideal event for experienced runners to achieve a personal best or for beginners to exceed their own expectations. However, climactic conditions can play a part: last year's event went ahead under grey skies and a cooling drizzle – perfect for a marathon, while previous years have seen unseasonably sunny weather and high temperatures – alright for the beach but no good if you're trying to run more than 40k in under 4 hours!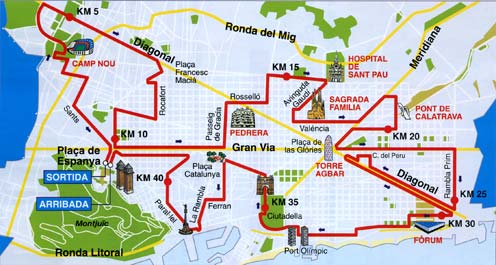 RACE REPORT
The first of our sweat teams have completed their endurance event, running the Barcelona marathon on Sunday 7th March and posting the following times.
Simon Lowans 4:39        Seve Poderoso 3:57        George Troughton 4:59
Simon bravely ran the marathon with a busted knee, and this was his first run of any sort in 6 weeks and resulted in a painful 8K hobble to the end, "all for the cause" he stated.
Seve commented that the first half was run at a steady pace, in which they all stayed together and had a bit of chat.  For the second half Seve swung his F14 back into action and it was headphones on, chasing the 4 hour pacemaker balloon, listening to awesome tunes!  The last 5k was really tough, but he had a great experience and was very happy to have broken 4 hours!!
George added that he enjoyed the first half of the event very much – like a walk in the park with Seve and Simon but the second part was like jogging barefoot very slowly across broken glass in the shadow of the valley of death.
In short, and I quote he "ran out of juice completely! Terrible sensation! A lot of suffering – only determination made me finish the bugger – that and encouragement from Marta on a bike next to me for the second half. But I do want to try it again believe it or not – if only to be able to finish in a more dignified manner! Having done it, I realise now that anyone who can get across the finish line is an absolute hero! Roll on next year then so I can put the learning into practice!"
George added that on Monday there was heavy snow in Barcelona, which only added to the difficulty – at least it didn't do that to us on race day. Blizzard conditions turned the city white!
Chaps massive congratulations and very well done from FTFE HQ. Dominated!
THE TEAM, SOME STATS AND FACTS
GEORGE TROUGHTON
Greatest Personal Sporting Achievement Beating Simon in Sports Day 800m race and taking the shirt off his back in the process… well, actually it was a 50p piece, but it felt like a lot at the time!!
Sporting Hero Taffy Richardson, captain of the 1992 FA Vase-winning Wimborne Town side. Less teeth than Nobby Stiles; he sat on the ball in the semi-final at Guiseley
Marathon Target Time 4 hours
FOLLOW THAT FIRE ENGINE leg Stage 1
MATTHEW PODEROSO (SEVE)
Greatest Personal Sporting Achievement
Completing the Barcelona Marathon within target time, 2010!!
Sporting Hero Rocky Balboa
Marathon Target Time 4 hours
FOLLOW THAT FIRE ENGINE leg Stage 4
SIMON LOWANS
Greatest Personal Sporting Achievement Shooting 93 out of 100 basketball free throws, NEARLY breaking 20 minute 5K. 20.03 (awful conditions though, I will do it once I have this marathon out the way!)
Sporting Hero There can only be one for me and that's Micheal Jordan, oh maybe two, Roger Federer as well.
Marathon Target Time I don't mind along as its quicker than George's (see George greatest sporting achievement)