Day 108 : Quarantine Matters !
High Point : Clearing quarantine in a world record time
Low Point : Getting lost in Morley
After a day of panic yesterday, today was a big day. The number of inter dependencies on this expedition is insane. Frankly it is a house of cards, a donkey on the edge. The fear of 4 weeks stuck at the port was not even funny. Louise, Fuad and Amy have arrived in Oz to dominate stage 5, spending 4 weeks in quarantine would have been a disaster.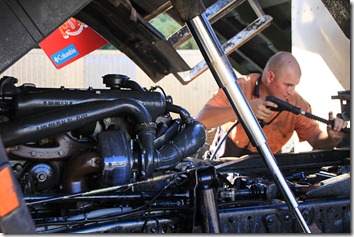 We headed to the port early doors to assist in the big clean. Each time we thought we nailed it, the nice chap from quarantine would find another part of Martha that had filth on it from our rally adventure. 22 countries of muck was proving difficult to shift, we had a breakthrough by removing a couple of panels near the fuel tank which allowed us get right in there, bing bong bash, the mud stuck inside the chassis dropped out. It was a little like finding some sand in your suitcase a few months after returning from a cracking holiday. For me these clumps of mud were a reminder of the off-road good times of Russia, Kazakhstan and Mongolia.
Tick !  Quarantine release Martha. This is massive and we are proper game on. We have come across instances of extreme generosity during our adventure, Luckens are right up there. The waiting list (4 weeks) and cost ($7,000) would have killed stage 5. Top top lads.
New Truck Kit : some awesome outback 4×4 spot lights (850 metre range).
A big chunk of our crazy big journey across this massive country will be through the outback. Our current headlights are shabby at best so any sort of night driving would be a disaster. The Perth fire fighters kindly hooked us up with a 4×4 company called Opposite Lock (http://www.oppositelock.com.au)  who very kindly donated a couple of bad ass spot lights. Not only do they make the truck look proper gangster, they will really help with the daily game of kangaroo dodgems.
Was a it a good day ? It was a great day !!
Steve
[flickr album=72157625310752400 num=30 size=Square]