Day 54 : China in your hand
Location : Zamyn-Uud to Erlian
High Point : With well over a year of research and hard graft behind it, we had always thought that of all the borders we are crossing, the Mongolian / China border was the "big one".  It could not have gone any better. Incredible. We met our Mongolia fixer the night before to go through the game plan and paperwork. The crew were up early to give Martha a good old clean as she was caked in wet sand and muck after all the fun in the Gobi desert. We headed off at 10am and were quickly through the Mongolia side with only one complication. With Panoramic Journeys on the end of the phone to our fixer Ulzi, the missing paperwork was soon dismissed and we cracked on into no man's land.
The two sides of the border could not have been any more different. The Mongolian side is small, basic and functional. The China side is massive, extremely impressive and certainly shows a bit of "one-up-man-ship". Our Chinese fixer Sun Ji was there to meet us. He joined us as we had already been surrounded by some very interested Chinese border police.  Ailsa was soon impressing them with her Chinese (she studied Chinese at Uni and also lived in China).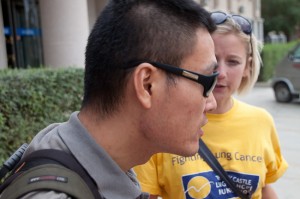 Sun Ji had been at the border for a couple of days finalising the paperwork process which had started a year ago. After a spot of fun with the customs officials, we were through in no time at all. Now normally as we exit the border area into the country in question, there is whopping, cheers and sometimes tears. We were so incredibly shocked and confused this time, that the crossing was met with complete silence. There was still official paperwork to complete, but essentially, we had successfully rolled into China. The first foreign fire engine ever to do so.
Low Point : Leaving Mongolia. The freedom. The Nomadic way of life. The extreme off-roading. The people. Is there any other a place on Earth like it ?
Massive Thanks : Wow, where does one start. Myself and Barham scanned the world to find a solution to China. The best firm by a long stretch were NAVO (http://navo-tour.com/en/). They have been awesome (special thanks to Karen and Sun Ji). Thank you for going out of your way to push the boundaries of what is possible. Barham's good friend Ben Lloyd (who lives in China) has also done a magnificent job of being our man on the ground. A wealth of knowledge on this crazy land. He will be joining us in Beijing and on the fire engine. Top lad.
Massive Thanks 2: to Panoramic Journeys  (http://www.panoramicjourneys.com/) for making our passage into and out of Mongolia successful.
Authors Notes : So we cracked the big one. It is more a sense of relief than anything else. No real excitement, just a huge sigh. I think after a good sleep it will all sink in and the realisation of this achievement will hit home. Time for a little sit down.

If you like our blogs, please donate to our wonderful charity. Remember, all monies go to the charities.
FTFE is 100% self funded by the crew. 
.
Photos of the Day
[flickr album=72157624812774225 num=30 size=Square]