Day 72: Somewhere to nowhere: Yibin to Zhao Ton
High point: Ross reversing the wrong way round a roundabout
Low point: Ross reversing the wrong way round a roundabout
China has been absorbing, intriguing, tiring and a hell of a lot of fun. Architecturally stimulating however, it hasn't been. The Chinese advance to economic powerhouse and the legacy of the cultural revolution have left the majority of its towns and cities bereft of the historic buildings, statutes and monuments that you'd expect in a country such as er……China. The country therefore faces a mad scramble to save what it can from its past as it awakes not only to the opportunities of the future but an appreciation of its own long and distinguished past. Unfortunately many towns in China have realised the value of history too late.

We had no intention of visiting let alone staying in Yibin. Apparently it was a nothing town (albeit with a big bridge) on the way to another faceless town. However, it must rank as one of the friendliest places we've visited. We flew solo without Sun Ji for the evening to see whether we could survive in a country where we can't read, speak or understand anything. With the whole restaurant (about 50 people) playing a mass game of charades to Ross mooing, Paul clucking, me oinking and Steve doing his rice impression (I have no idea either!), we ate and ate well.
We woke to pumping music to find that our hotel was joined to both a junior and primary schools. The morning consists of a coordinated dancing/aerobics session. This daily ritual was interrupted by a giant Bear peering over a fence and about 300 children running to look at this visiting animal. Ross has never received so much attention from the girls, or boys for that matter. Each child who came to measure themselves against him was greeted with a high five and beaming grin from the dense (ginger?) beard he has been cultivating for 2 months.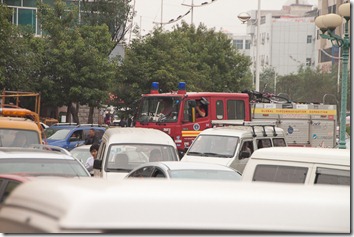 As the road snaked up through the hills to Zhao Tong, the landscape transformed and the hills began to show off its dramatic peaks, valleys and waterfalls. Arriving in Zhao Tong it is easy to see why it doesn't feature on any tourist must see route in China. It had the atmosphere of a wild west town. It's altitude helps makes it cold and wet and the people wear the expressions of those that really know what its like to work for a living. The circus rolled in to town and the usual welcoming committee convened with an air of intrigue and bemusement . China has felt as safe as any country I've visited, here for the first time since being here I was conscious of the dark, strange unfamiliar towns and cities we've been wandering around.
I'm getting off and heading home in a few days and it really is with a heavy heart.  This journey has been and amazing experience. There are hundreds of people who have contributed so much in so many different ways to make this happen and to raise money and awareness and I'd like to express my gratitude to them all.
Whilst I can't wait to leave the smell of sweat and texture of dirt and oil behind, I'd love nothing more than to continue on, or indeed turn around and head back through China. Could I do this for a whole 9 months? its unlikely my back could survive another 9 days. Good luck.
James
[flickr album=72157625072184198 num=30 size=Square]