Day 91 : Sticker Envy
Satun to George Town, Penang
High point: APP Global Logistics team
Low point: Missing a driveway
No point: Our 'under reaction' to the rain
Game of the day: over complicated game of paper, scissors, stone
Up early for our 2nd and Steve's 20th border crossing day. What was due to be a quick drive to the border, about 1hr, turned into a 3hr dash to get to the Malaysian border as we had missed a turning on our route which looked more like someone's driveway rather than a road that Martha would be happy with.
As we approached the border it felt as if we were approaching a market rather than a checkpoint as unlike many other crossings where the borders are in the middle of nowhere this one in Sadao was in the middle of town.
We made it out of Thailand without trouble and were meeting the team from APP Global Logistics on the Malaysian side, namely Julie and Sally who have been liaising with Steve for many months in preparation for this day.  What we weren't expecting was 10 of the team there to greet us.  They had all taken the weekend off to head up from Kuala Lumpa to escort us to our destination this evening in George Town, Penang.
It was a great reception and the team did a brilliant job of getting us through the border quickly and helping navigator of the day (Michelle) by making her job completely redundant as we drove in convey – Martha sandwiched between two cars to the Island of Penang. They also had some amazing logos on their car which Steve is rather jealous of and is determined to get for Martha.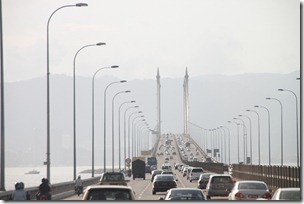 Roads here are pretty much perfect – motorways all the way, huge road signs that actually tell you which way to go and give you enough warning to turn.  So, after a very long day – now about 12hrs it was great to head into Penang over the bridge which is the longest in Asia at 13.5km. After a tour of the city we found a hotel for us to stay in and a quick turnaround we headed to the local food court for some traditional Malaysian food and drove to the local beach for a night stroll …….. however, as with everywhere we seem to go, about 5mins into our walk we saw locals running hell for leather towards us.  Thinking something might be up (and with our usual 'under-reaction' to situations) we carried on and low and behold – the heavens opened.  With a quick dash back to the car we made our way back to the hotel with rather weary heads – the boys falling asleep in the back of the car and the APP team looking forward to their beds after an early start to meet us.
LB
[flickr album=72157625195186812 num=30 size=Square]