Stage 1 : How important is a fuel tank exactly ?
Good evening. Today was a funky combination of agony and relief.  We are only 4 days into this mammoth expedition and it feels like we have been on the road for years.  Doggy years.  For every 1 hour spent in Martha (especially the back), it feels like 7.
It is hot hot hot in the cab. Hot and noisy.  Only Ben Battye has mastered the art of having a semi-nap, in all sorts of weird and wonderful positions.
So we are in a little bit of a pickle.  Every morning we do a comprehensive check of the truck; thank goodness because this morning  we spotted a beauty of a diesel leak.  Even though we have an awesome steel tank shield, somehow we have still managed to sustain a rupture of the fuel tank.  We tried our best to fix it, but even with the all the tools in the world, we needed some welding.  Despite this mishap, it seems that the gods were smiling upon us as, incredibly, this leak was spotted just 2 miles from an official  MERCEDES  SERVICE CENTRE!!!!  Amazing.  We are still freaked out about how lucky we were.  It was a rollercoaster 8 hours.  With a fire engine, nothing is straightforward: a simple replacement  wasn't possible because Martha was a fitted with a custom-built tank  by the coachbuilder company Angus 16 years ago.  Therefore we needed to do an über-job of patching it up.
And this is where  Stefan and Jeff stepped up.  Two Swiss legends and hotshot mechanics.  Stefan doesn't speak any English and spent most of the day laughing to himself (literally chortling!) about our fire engine.  We communicated through the international language of hand gestures… all very amusing.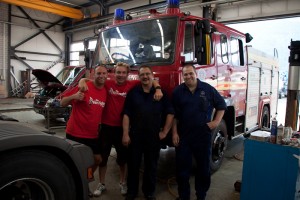 Spending all day in a hot sweaty garage was pretty funny.  All the boys feel beaten up to the max.  The chat is getting loose.  The tiredness is really setting in now.  We have two massive days in front of us now to make up the mileage of 500 km each day.  Now remember, in doggy miles, that its 3,500km each day!!!  Ouch. Best get some sleep.  Oh dear, we're sharing a room with Ross.  Night.
[flickr album=72157624553373310 num=30 size=Square]
[flickr album=72157624553445314 num=30 size=Square]