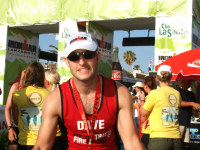 2010 proved to be quite a big year. There was definitely more than one occasion where I thought I might have bitten off more than I could chew. At the start of May my first ironman was approaching fast (too fast) and soon after would be the channel swim. Success would mean a trip through Russia happy with a job well done. Failure would mean six weeks of constant jokes, at my expense, through the rough terrain of Mongolia. Failure really wasn't going to be an option!
Several friends, who are themselves far more accomplished athletes than I, thought I was pretty crazy to attempt my first ironman and channel swim in the same year. But if you don't try you'll never know.. right?!
If you're remotely interested in the preparation and how those events went read the bottom of this blog. First to details of this year's challenges!!