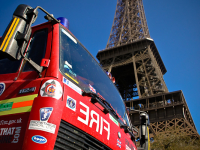 Location: Voray sur l'Ognon to Calais
High point: Steve remembering to pick his Mum up from Gare du Nord train station – the reunion we have all been waiting for!
French point: Spot the landmark- Eiffel Tower, Concorde, Madeleine, Musee du Louvre.
No point: The revelation that Coca Cola Light (ie Diet Coke in France) tastes better because it actually does have different ingredients!
Ah, Paris in springtime. The sun is shining, the blossom trees are blooming, the tulips are trumpeting in honour of Martha's impending arrival. It's the homestretch now! One day to go! Read more →