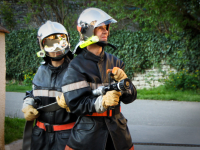 High Point: A vintage fire fighters helmet from 1931 that had been handed down to fire fighters in Voray sur l'Ognon was presented to Steve, very humbling.  Steve says it's easily the coolest thing we've ever been given!
Low point: Steve winning no swear Friday yet again, even after a strong start from Matt, potty mouth
An early visit to St Remy fire station to start the day, where the fire fighters and mayoral representative provided us with a tour of the fire station and a well needed cup of coffee, the fire fighters were amazed at the miles that the crew have been covered in 9 months.
They very kindly presented us with a commemorative plate and fire station tops, unfortunately Steve was given a captains shirt, and cap, so was unbearable, he even had the audacity to ask the captain for his actual rank badge, which he obliged with.  His cap no longer fits his head! ;o)