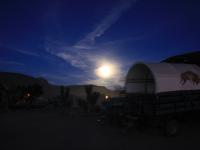 Hooters point: A very nice man called Cary lined us up with an early morning shoot at Hooters before we set off on our way. Only in Vegas! Thanks Hooters.
Hoover Dam point: We had to pay this magnificent piece of engineering a visit and we weren't disappointed. What an awesome site it was too.
Amazing road point: the drive through the Arizona desert en route to the Grand Canyon was amazing and potentially even more incredible than the Pacific Coast Highway. The two drives couldn't be more contrasting though; one set on the beautiful coast and the other literally in the middle of the desert.
High point: the welcome and hospitality we received from Susan, Ben and the gang at the 'Grand Canyon Ranch', coupled with a glorious sunset and the rising moon or Apache sun.