Asset co. give Martha a makeover
Steve Moore: When I first set eyes on Martha, she was a mucky little thing. Fresh from fighting fires on the heath in Dorset, she was covered in mud and frankly looked exhausted after 16 years of service with Dorset Fire and Rescue.
How far she has come in 6 short months.  She was never designed to go much more than 10 miles at a time.  We had to turn her from a fire fighting work-horse into an expedition truck that could cope with everything the world could throw at her.  Asset Co came to the rescue.  The company provides fully outsourced fire and rescue services, including the provision of personnel, training and equipment. For me, visiting their factory is like Charlie visiting Willy Wonka's Chocolate Factory. They have over a hundred fire engines – amazing!!  Our link into Asset Co is the modern day legend James Collins.  He helped convince his colleagues that what we are doing is completely awesome, and that we needed their expert help to turn our puppy into a bad ass circumnavigating pit bull!! Woooooof!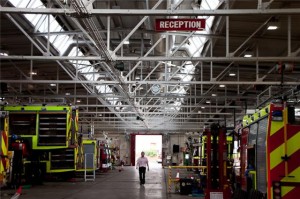 What they have accomplished in six months really can't be understated. Martha is now battle-ready and looking good. The Full Major Service included:
– All new cab locks fitted to doors
– Locks fitted to all lockers to ensure our kit is kept safe and secure
– Fuel tank steel shield built and fitted
– New roof and floor where water tank used to be
– Bike racks fitted
– Battery security
– Spare wheel (massive!) storage
– Master switch moved
– Rewiring of all electrics
– Acquiring of winch
The legends that made this happen and who I, and the rest of the crew, will be forever thankful to are Danny, Dave, Declan, Cliff, Killes, Z, James and Terry. Guys, we salute you!  Thanks to Terry for sorting out the winch for us, good man.
Without these guys I doubt we would make it as far as Dover!  We now have an epic tank of a truck. Don't get me wrong, it is still a very inappropriate vehicle for such a journey, but the fire engine was chosen out of love, not functionality.  With a lot of love from the boys from Asset Co, Martha can stand tall, take a good look at the world, drop the hammer and LAY IT ON!!

[flickr album=72157624397720393 num=30 size=Square]