Day 52 – "Roads? ….. Where We`re going we don't need Roads!!"
Location : Choir to Sainshand
High Point: Being Back on the unmade roads of Mongolia for one last time as we made our way to the Chinese border was something we all enjoyed in tough and long day on the move. You really feel like you have earned your dinner on days like this!
Low point: It the first day when I really thought about FTFE having to leave Mongolia. Living each day as it comes has been wonderful here and its hard to imagine being anywhere else right now.
No Point: Steve's "Sleep talking" at 12.30AM that panicked me into thinking we were about to be run over…… In fact the train was about a kilometre away.
Authors Comments
The past week in Mongolia had been very different for us all. Crew changes and not being in Martha everyday bumping along on the roads meant that some of the boys were feeling a little "lost". Today really helped everyone, being back on the road was the kick that Stage 2.5 needed and I think Ailsa more than anyone could see the improvement in us all after doing a full day's drive.
I awoke from camping in the Gobi to the sound of a Trans Mongolian train slowly edging past us. Last night's surreal experience of seeing the actual Trans Mongolian passenger train lit up by its cabin lights whilst watching Alan Partridge on a laptop in the desert under the stars is something that could only happen on FTFE and also the reason why we all love Mongolia. The surreal has become the real here.
Morning in the desert was an amazing mix of colours and tones as in the distance a massive storm raged while over our heads it was a pleasant and sunny morning with deep blue skies and the odd white cloud. The Gobi has presented yet another landscape to us in Mongolia, it must be 5 different worlds we have driven through here and everyday on the road here is a constant surprise.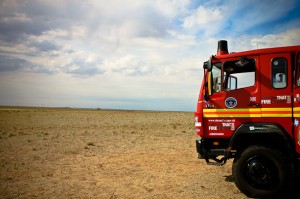 We hit the road by 10am and all wondered what would happen today after the tarmac had run out at precisely the point where we stopped to camp last night. Our questions were answered after about an hour of constant driving off-road, and so stopping to let the air out of the tyres again (it helps to reduce the bumps) we settled ourselves down into the fact that we would be doing about 20kms an hour and our driving time today had been doubled from initial estimations. Instead of feeling down however you could see the smiles return to our faces as the challenge was laid down by the land and the crew gladly accepted.
3 hours in and lunchtime was calling, we stumbled upon a town that wasn't even marked on the map and after about 10 minutes driving around we found a great little cafe that was playing some hard core Drum & Bass as I entered and did the universal hand to mouth symbol to find out if food was available! While a Mongolian feast was being prepared Steve and Ross were outside playing basketball with some local kids. Basketball seems really big in southern Mongolia which is probably due to its proximity to China and how popular the game is there. In fact everywhere we stopped in southern Mongolia there seems to be a court or board ready for someone to play on, and at least Steve can play a game he has real skill at now after making us all laugh at his claim that he is brilliant "at everything sport he does"…. extreme desert ball tells us a different story.
Back on the road and feeling decidedly full the afternoon's drive weaved its way through the Gobi following the railway all the way to the biggest town on our route to China called Sainshand. For a Gobi town it was strangely well-developed and we were so lucky to find a newly built hotel with such novelties as HOT showers and soft beds, it really has become the little things that please us now!
Dinner that night was fantastic as we all reflected on our journey through Mongolia, all talking about our favourite moments and the good times that have happened on stage 2. Its the kind of chat that could have lasted for hours, brilliant stuff!
It was a great end to a great day on the road… and not a sore back in sight!
James
[flickr album=72157624811786717 num=30 size=Square]
+