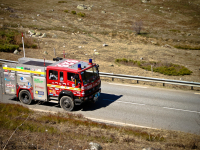 Barcelona to St Remy
High Point: The drive through the gorgeous Pyrenees Mountains on route to Andora
Low Point : The meat in my salad has yet be confirmed as chicken, beef or pork…. oh dear L
Crew Point: Congratulations must go to Matt Haynes who has also impressed the crew with some incredible FTFE firsts…
Turning up on his first crew day in one of the worst Hawaiian shirts ever made.
Declaring himself an afternoon driver only.
Deciding the daily truck checks were "not his speciality" and watching from the cab.
Asking the crew after 5 minutes of his first day in Martha "Is this it? What do you do now?" None of us knew how to answer it …
Setting a world record opening hour tally in "no swear Friday"
Needing the offer of beer to finish his first blog.
Disclaimer
It should also be noted he has organised some cracking press in both Spain and France and his enormous generosity to the charity!