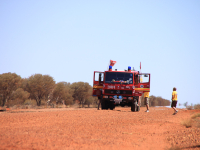 Hello people! I'm back by popular demand… I hope you've all enjoyed a fantastic Christmas and are planning for an amazing up coming year.  I'm here to recount our epic Australian leg for any of you that might have missed the many hilarious and highly entertaining blog posts from the crew.
It's been over a month now since I've returned from duty, but it feels more like a lifetime ago since I first stepped on to Australian soil.  Stepping off the plane, the heat and humidity hitting me like a slap in the face, I instantly forgot the 23 hours spent in transit.
Perth turned out to be more than just a starting point for our Australian leg, it almost became the end of the whole trip.  The quarantine officials were rather unimpressed with the clean up job done on Martha before she boarded the ship and were threatening 3 weeks in jail (quarantine jail that is).  Steve quickly got his persuasive hat on and got chatting to the guys at Luckens.  Low and behold quicker than you can say "Bonza mate" we were pushed to the front of the queue, free of charge of course, and were due out of quarantine in 3 days.  The first of many amazingly generous offers of help and assistance we got from the people of Australia.