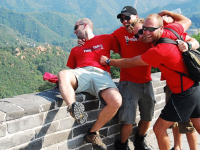 Hello my old China
A look back at FTFE's smashing and cracking 24 days in China
With well over a year of research and hard graft behind it, we had always thought that of all the borders we are crossing, the Mongolian/China border was the "big one".
In order to comply with Chinese regulations and to ensure we could successfully enter China with Martha we hired a company called NAVO. To comply with the regulations it meant having a guide with us for the entire time and NAVO selected Sun Ji for this task. It was Day 54 and Sun Ji was there to meet us at the border. As he joined we had already been surrounded by some very interested Chinese border police who Ailsa was impressing with her Chinese.
Sun Ji had been at the border for a couple of days finalising the paperwork which had started a year ago. After a spot of fun with the customs officials, we were through in no time at all. We were so incredibly shocked, relieved and confused that the crossing was met with complete silence as opposed to the usual hysteria. There was still further official paperwork to complete, but essentially, we had successfully rolled into China. The first foreign fire engine ever to do so. Another first chalked up for FTFE.
There had been quite a lot of press coverage about how bad the traffic had been around Beijing with tales of a huge traffic jam and people being stuck in their vehicles for over nine days. We came across three lanes of traffic about 250km out, and when I say traffic I actually mean thousands and thousands of trucks. Sun Ji suggested we take to the hard shoulder and try and squeeze past some of the worst of it. With sirens blazing Martha seemed to develop her own personality and nothing was going to stop her, or get in her way. She pushed, nudged, bullied, and cajoled her way through over a 100km and we were tired and exhausted when we rolled into Beijing at 3am. Read more →