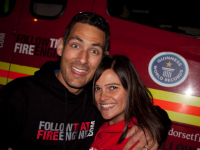 "One evening in June 2009, shortly before Garth passed away, Steve came over for dinner and was talking about his idea for an expedition. It was something that he had discussed with his Dad to try and raise his spirits. It did seem like a mad idea, but something he was pretty set on trying."
To Steve and the crew it's quite overwhelming to sit back and think about the kindness, generosity and selfless contribution from friends, family as well as complete strangers all giving so much for the cause. There are of course countless numbers of people that have made this expedition possible.
Nay and Jimmy Dare are two of these people.