Day 126: Were you the man asleep on the dog, and missing an absolute sitter for our hat-trick
Day 126: Were you the man asleep on the dog, and missing an absolute sitter for our hat-trick
Melbourne to Sydney 875km
A couple of my favourite things are coffee and chocolate. I think we all can wholeheartedly agree with Julie Andrews that Raindrops on roses and whiskers on kittens, Bright copper kettles and warm woollen mittens are also right up there but bare no relevance to the expedition so I will focus solely on coffee and chocolate. In fact chocolate has no relevance either, aside from the fact that I love it.  I was hoping to eat less on this expedition and I have, not that you can tell. I will make up for that when I'm back. So I'm left with coffee. I was hoping to drink less on this expedition but I haven't. I will be even more addicted when I'm back…In the context of day 126 and the expedition coffee is only one part of the story. To be more precise I should talk about caffeine. This is going really well……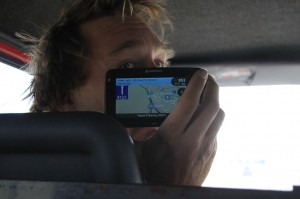 Three FTFE records were smashed today that I think will never be broken. Firstly the distance covered in one day, 875km. Secondly seeing the rarely used Sat Nav state 853km until the next turning and lastly caffeine consumption.
Breakfast was a McDonald's sausage and egg McMuffin with the first coffee of the day, a flat white. Well it was opposite the hostel. A flat white is a strong latte so for those who love a strong coffee and we do. I should point out at this juncture that Amy is demonstrating great courage in turning to caffeine aside from the odd tea.
The journey itself was through some magnificent rolling green fields and forest landscapes, the kind you would expect to see in southern England and a total contrast to the red centre. As followers will know we change drivers every hour and in addition to filling up with diesel or seeking the mandatory toilet break, it has given us the opportunity to browse the drink and food selection at the service stations.
The food choice is often simple as in the UK, with either a McDonald's, Hungry Jacks (Burger King in the UK) or on very rare occasions Subway which gets the ladies excited. So lunch we chalked up our second McDonald's of the day. Personally I had a mega Big Mac. You're not going to believe this but McDonald's, the cheeky young scamps, have only gone and ingeniously crammed four burgers as opposed to the standard two into this magnificent gourmet creation. You know when you return from shopping and have a fridge full and fancy a sandwich, there is a tendency to over egg it and load it too full so it collapses. Not McDonald's they have created a masterpiece and I salute them.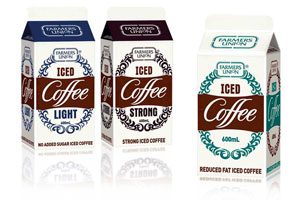 The drink choice is not so simple. In the UK my only panic in this environment is choice of chocolate bar. However with my chocolate cravings seemingly extinguished in the heat and the plethora of caffeine infused drinks has taken its place to fight back against the compounding tiredness and today the 875km. There is a wide range on offer from your standard coke and coffees, to cartons of iced coffee and numerous energy drinks that you see emblazoned over adrenaline junkies. Today we got stuck in and sampled everything with the cartons of iced coffee being our favoured weapons of choice.
Lovers of caffeine or indeed coffee will know sometimes as with any over usage (please note not addiction) it can feel aggressive on your body and bring on headaches and have the opposite effect.
Thankfully Fuad being a Bosnian has bought his continental outdoor cafe culture to FTFE and has introduced iced tea. To prove further how cultured he is he went to the Melbourne National Gallery of Victoria while I watched cricket at the MCG. So mid-afternoon we had some iced teas which were splendid and refreshing and this coincided beautifully with the highlight of the afternoon. Louise bought OK magazine and we each took in turns looking through pictures of Will and Kate, and for the boys at least bringing back memories of Dentist waiting rooms or waiting for our better halves to get ready. Any excuse for a read!
This reminded me how delicious and less caffeine based tea is and since then I have on many occasions enjoyed this splendid oriental infusion rather than a cup of coffee, and will continue to do so.
Prior to the iced tea I had been asleep for an entire hour in the back of Martha. I couldn't believe I had achieved this as I find it impossible to powernap. This was achieved using the Ben Battye (Stage 1 veteran) lock, which is inserting something soft between your cheek and the seatbelt and you're locked in. In my case I used a fluffy dog named "d-as-in" dog kindly given to the ladies by the Adelaide Firies and woke up with it glued to my cheek as we rolled into the services. Not sure if it was Lou's or Amy's. Anyhow as I stumbled out of Martha not knowing what day of the week it was a little girl came up to me and said, "were you the man asleep on the dog?". I sheepishly admitted it was me and walked away with all my self-respect left on the tarmac.
Finally after twelve hours on the road we rolled in a coastal suburb of Sydney, Coogee. We were all tired and hungry and not quite ready for this as it was lively to say the least. So lively that we were all in our single boxed sized bedroom (swinging of cats were banned) before midnight, but due to the noise it was after 4am before we were all soundly asleep.
Before sleep we nipped out for some food and missed out on a tap in for a hat-trick. There was a McDonald's underneath our hostel, and as we entered an adjacent cafe I could hear Eminem's words resonating through the Tenerife-esque atmosphere……this opportunity only comes once in a lifetime.
So, When the distance bites, When the heat stings, When I'm feeling tired, I simply remember caffeine, And then I feel…..totally wired.
PB
[flickr album=72157625457754566 num=30 size=Square]