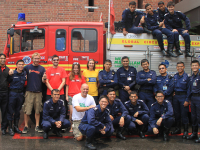 High Point : Appearing on the 7 o'clock news all over Asia.
Low Point : Not being able to hang out in a fire station everyday
It's always nice when you pop over to someone's house and they not only offer a cup of tea but a cheeky little biscuit on the side too. Well our day with the Singapore Civil Defence Force (SCDF) was the equivalent of my gran making her entire house out of biscuits for my visit.
..

..

..

..