Day 92 : Monkey Island and the PR fail
High Point – Swimming in the beautiful Malaysian Sea
Low Point – Missing John Barnes who was just yards away from our hotel
No Point – The Malaysian 'Pirate' who robbed us in broad daylight
Over reaction of the day – Seve v the Monkey
So today was our first day off since the tubing in Laos and we were all very excited about the prospect of finally dipping our toes into the sea after being so cruelly teased in Thailand by Krabi, Phuket and Phi Phi. So after saying goodbye to the wonderful team at APP ( who were driving back to KL) we headed out of Georgetown to experience some of what the rest of Penang had to offer. Seve was the navigator for the day and while the rest of us were sleeping earlier in the morning he was busy sorting out our agenda for the day ahead – a prime example of navigation at it's finest!

As we headed out of Georgetown we once again were greeted by the beautiful view of sea and we all began to get increasingly excited about the day ahead. It was on this journey that our one source of entertainment, the stereo, decided enough was enough and Martha FM was no more – bad times. It now appears that the rubix cube will be our source of entertainment on the journey ahead….. zzzzzz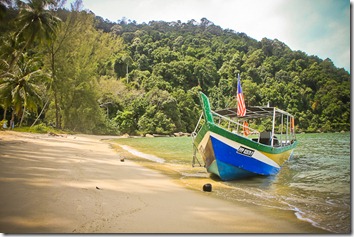 Our sorrow was short-lived as we soon grew near to the resort we were aiming for, Monkey Island. Seve had discovered that this beach in Penang was not accessible by road so we needed to jump in a boat for the final part of our journey. Out of nowhere a guy appeared and offered us a lift round to the beach for 20 RM (£5). Once in the boat it only took 10 mins to get to our destination and on first seeing it we all knew our Christmases had come at once. We disembarked and to our horror the boat driver turned round and demanded 100 RM (£25)! The cheek of it! Barham and Steve were not having any of it and they began to debate this sudden hike in price with him. After much discussion and a few choice words we handed over 80 RM and as the man rode away we felt completely robbed.
From 'pirate gate' onwards the mood improved and we all had a dip in the beautiful sea and a quick game of frizbee. It was whilst playing frizbee that we suddenly heard a loud hissing noise. As we all turned round we spotted Seve being chased out of the undergrowth by a rather angry monkey who had not taken too kindly to him taking pictures of his offspring. The rest of our time at the beach passed in a haze of sleep and sandcastle construction.
Once back at the hotel us girls got ready at record speed as we were all so hungry but the boys did their usual and faffed around for 45 mins taking baths, surfing the net and phoning home. When we finally hit the Penang food hall next to the hotel we quickly ordered food and whilst sitting down tucking into our dinner we all started noticing banners featuring England legend John Barnes with today's date (17/10/10). We grabbed the nearest member of staff to ask what was happening and it transpired that the one and only John Barnes had been in that very food hall for 2 hours and we had missed him by a mere 15 mins. RUBBISH!
As a result Lyndsey and I are refusing to let the boys live it down as their faffing caused us to miss out on Martha getting to meet a true England legend!
MM
[flickr album=72157625203595070 num=30 size=Square]