Day 94 : Umper Lumpa Kuala Lumpur
KL
I was wide awake at 7am which was odd because firstly I was in a double King Size bed which deserves a lie in in its own right and secondly I was very tired. This expedition lark surprisingly takes its toll, how I can't really answer that but it just does. I made the executive decision from my executive room to get up and survey my estate and took an early lengthy morning stroll to the bathroom. En route I had plenty of time to ponder about the usual things that trouble me greatly namely world peace, nuclear proliferation and Petronas tower tickets……Petronas tower tickets! I still have honestly no idea what reminded me of these but in order to do our planned visit of the the towers later in the day we would need to purchase tickets in advance that morning!
This was confirmed by the concierge that they were released on a first come first served at 8.30am beneath the towers, so at 7.30am I left the hotel and took the short walk to the towers arriving at 7.45am to join the long snaking queue. It turns out just in time, as the queue was later cut ten people behind me and those behind the line to go home. It took 2.5 hours to reach the front of the queue which was so excellently patrolled by the security, who were tested at times, it wouldn't have been out of place in any post office in the UK.
On returning to the hotel with tickets for the Sky bridge and observation tower at 6pm (sweet!) we had a breakfast meeting with Hotel Nikko's Marketing Communications Manager Bobby who was incredibly enthusiastic and kind and explained what would be happening when we met the media the following day and emphasised that if we needed anything we only had to ask.
The rest of the day was spent lounging by the pool, shopping, catching up on some communications and chilling on our estates. Oh I have inadvertently answered why we're all so tired all the time on this expedition!
At 5pm we congregated in the hotel's bar named Bentley's Pub and enjoyed some beers and banter with the General Manager Michael who was an Australian so cricket might have come up once or twice. Michael, continued from where Bobby had left off in terms of hospitality and we really can't thank him and everyone at Hotel Nikko for our stay! Also joining us was Tim Haslett (brother of Stage 2 Veteran Ben Haslett) from Lucid IT who has done an incredible job for us in KL meeting us on our first night and making the introductions to make our stay at Hotel Nikko possible. Tim from all of us a massive thanks – we owe you!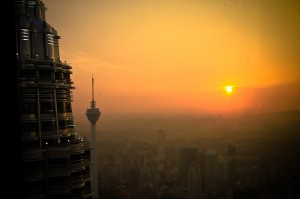 Next we made the short walk to the towers for our 6pm visit. On arrival we were ushered into a small theatre and shown a short film about the oil company Petronas and a tiny segment about the building. Steve felt like it was an attempt at a brainwash on the virtues of oil and what it has done for Malaysia. He definitely has a point but its difficult to escape the affect on the national pysche of these magnificent twin towers. They absolutely dominate the KL skyline and can be seen from a long way out of the city. They feel like the nation's unofficial emblem as its difficult to escape their image all over Malaysia as its on everything from tv adverts, t-shirts to fridge magnets. If you think Malaysia you will probably think of these towers first. They are spectacular and an unbelievable example of man made beauty which must be seen to be believed and at night are better still. We have tried our best in the photos to do them justice.
It was now time to begin out tour. We passed through metal detectors and were ushered into a lift that took us up to the 41st floor (Canary Wharf is 50 floors for scale) to access the Sky Bridge that connects the two towers. We spent 15 minutes walking along its length taking photos and I for one am not afraid to admit I was rather pleased that we had come via "Bentley's" as I'm not great with heights and a couple of beers had relaxed me.
Next the big one. The towers have 88 floors and we went up to the observation deck on the 86th floor just as the sun was beginning to set. We spent 20 minutes up there daring each other to press our noses up against the windows and look down. My stomach is churning just thinking about it as I learnt against the glass with one hand still holding out into thin air should "something" happen as I felt it would make all the difference. It is quite surreal being that high and seeing a tower next to you in addition to the other tower in KL, the Menara tower. An incredible experience.
After our visit we took the opportunity to grab some quick food before taking the short walk to another hotel called Traders, while looking back at the towers now all lit up in the darkness. We took the lift to their roof top open air sky bar on the 33rd floor and as we exited the lift and walked into the bar area dominated by a lit up swimming pool and we're all blown away by the view of the towers and the city of KL.
Naturally, by this time we were all very tired and settled down into a corner to enjoy a drink and look over the towers and KL, all lit up in its full glory.
Paul Barham
[flickr album=72157625090985677 num=30 size=Square]