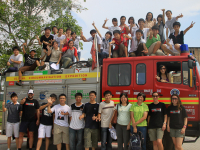 Penang to Kuala Lumpur
High point:  Discovering we had been given a room each at the most amazing hotel we have ever seen!!
Low point:  No music!  With the stereo out of action we continued with the fantastic Rubik's Cube (only 1 though !)
No point:  The multi-purpose room at Kellie's Castle
Quote:  "she's a witch, she's a witch, burn her!"   The simultaneous chanting of the Monty Python line at the girls who saw into the future that it would rain.