Day 121: "What a great idea for a holiday". Life on the road.
Robe to Port Fairy
Every so often you get a comment along the lines of, "sounds like a bit of a jolly to me" and the best to date which was said to me and Steve today, "what a great idea for a holiday". I think on the face of it it they are very fair comments. Five people turn up in a fire engine with big smiles and lots of chat on an adventure of a lifetime. I myself have always jokingly told Steve on numerous occasions it is a glorified driving holiday which thankfully still just about raises a smile. However once you have explained what is involved the expression invariably changes from one of almost scepticism to a fascination and sometimes excitement and disbelief of what is involved. The amount of time and effort by countless numbers of people to put this expedition on the road has of course been well documented. However the work didn't stop when Martha left London. Far from it, and in many respects it was only just beginning for those on the road and back at home so what is going on day to day for FTFE?
For the crew the day to day work is shared out by a rota. The daily jobs that the crew are responsible for are as follows. Photography and video, always looking for an opportunity ensuring the day is accurately captured. Navigation is a crucial but thankless task. An error free day guiding and locating (sometimes booking) accommodation and you're doing your job. Get it wrong and naturally you won't be allowed to forget it. Communications is updating facebook and twitter and blogging the previous day on a lap top in the back of the bouncy truck. I am always late with my blog! Entertainment is at the moment all about playing the board game Risk on an iphone and inflicting your choice of tunes on the crew. Playing Risk on no swear Friday is I think one of the toughest things I've ever had to do. Finally one person is the resting (dogsbody) but picks up any slack.
The driving which requires full concentration is shared out on an hourly basis, which has led to the boys at least being creatures of habit, now needing a toilet break to coincide with the stop and change. The hour is often dictated to by the bladder as opposed to the stopwatch.
Martha is checked on a daily basis for several things including tyre pressure, oil, stones in the tyres and lights etc. On a weekly basis a more comprehensive check is carried out looking at her underbelly, checking the torque on the wheel nuts and lifting up the cab etc (I know she is a lady but needs must!). These are done on a rota with the other guys collecting food and supplies for the day.
If camping three are responsible for setting and breaking camp while the other two do the cooking. With three boys and two girls on this stage and it being the 21st century the rota is being strictly adhered to………?!?!
At all times we are representing FTFE, wearing the kit and talking and telling the story to as many people as possible. Life in the metal box, with no air-con, upright back seats is very enjoyable but rarely relaxing. I know we're not working and having a great time but the compounding affect of the day to day is pretty tiring and our caffeine consumption on some days has been staggering. Trust me. If you don't believe me just look at photos of Steve over the last 4 months and you can see the change. Aren't holidays supposed to do the opposite?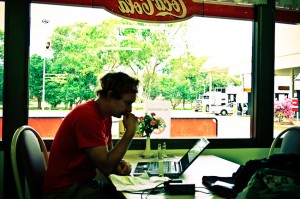 Then there is everything else. It is difficult to know where to begin to explain as the list is endless and ever growing. The vast majority sits on Steve's shoulders. He is obviously supported by the crew but as expedition leader it often requires his attention with nearly every waking second either thinking about or doing admin and in a sense is becoming a victim of his and FTFE's success.  There is the daily work of uploading blogs, videos and photos to keep the website fresh, arranging and speaking to the media and always looking for the next opportunity whether it be walking into a helicopter operator to secure aerial shots of Martha to arranging a visit to a fire station. In addition there is always shipping that needs arranging, paperwork that needs filling, the next stages to be worked on, replying to a multitude of correspondence and the constant fear of failure to name but a few. And I haven't even mentioned finding time to enjoy it and phoning his mum.
Back home it certainly hasn't been a time to lay down tools. Amy has been running HQ prior to heading out to join the crew and has worked equally as hard at co-ordinating the home front effort on everything and anything from updating communications and the website when the truck is out of range, and sourcing everything from new flags, new bulbs and sending them out with the next crew to dealing with the numerous day to day enquiries.
The rest of the crew have also pitched in, the most notable of late being Valerie Keith and friends organising the magnificent ball raising thousands for FTFE. Added to which there are countless numbers of people who have been so incredibly kind helping Martha along the way. Of special note are the people of Australia who have shown a kindness to us which has never ceased to amaze me. Amazing country, amazing people. Should the unthinkable happen and England lose the Ashes then I might have to revise this!
So was it a great idea for holiday? No it was a terrible idea and if it was sold as such I would be writing to Watchdog and Holidays from Hell. Was it a great idea to remember Garth Moore, raise loads of money and awareness for three amazing chairities, meet some incredibly kind, generous and friendly people, see and do things that in your wildest dreams could never have imagined and be lucky enough to be fit and healthy and be part of something that is making history and have an amazing time while doing it. The very best!
Paul Barham
[flickr album=72157625289967175 num=30 size=Square]