Day 70: A Panda feast. Chengdu to Leshan.
High Point: Today was really an incredible day and we got the real taste of modern China in a couple of ways. The Panda research centre and breeding base at Chengdu was totally brilliant and this was followed up by a wonderful lunch at Sun Ji's parents house in Qing Shen.
Low Point: Our waist lines!

Authors Comments: After a couple of days chilling out in Chengdu and getting some much needed rest (being pampered in the amazing 5 star Crowne Plaza), we were ready to hit the open road and get stage 3 (Beijing to Laos) moving again. First stop was the Pandas, for once we managed to hit our agreed departure time and four very excited boys pulled up at the 8am opening time. This was the first time any of us had seen a Panda and they didn't disappoint, I think they must have known we were coming to visit. They really are the most amazing creatures, very docile for most of the time but extremely playful when they get going and an eating skill to rival any animal, including the FTFE stage 3 crew. At the first enclosure we went to we were snapping a young one sleeping, feeling slightly disappointed there was no real action when Jim Stevens piped up "Um gents, have you looked in the tree to your right", sure enough no less than 20 feet away was panda perched halfway up having a snooze, so surreal. The one sleeping on the ground then woke up had a good stretch, wondered over to the tree, climbed it, and gave his mate a good nudge and a cuddle.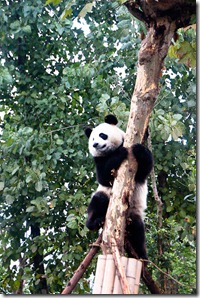 A couple of enclosures later we came across a family feeding, their natural diet primarily consists of bamboo and the skill they displayed by picking it up with their paws, with hand like dexterity and then stripping the bark with their teeth, before chomping through literally tons of the stuff is amazing. Naturally the similarities between the pandas and Paul were highlighted with this in mind! Next stop was the breeding centre where we were privileged to see a couple babies, one was only a month old and no bigger than my hand. The success rate of pandas naturally breeding in the wild is very small, so the centre has developed a highly skilled artificial breeding programme which has yielded some very good results. The main problem is the re-introduction of the pandas into the wild has been extremely limited and predictions are that in less than 10 years there could be no more wild pandas, primarily due to the destruction of their natural habitat, poaching and their slow natural reproduction cycle.
After the obligatory photo shoot in the car park, we are now official celebrities in China, we jumped into Martha, destination Sun Ji's parents house for lunch. On the way Sun Ji told us that he hadn't actually told his parents that we were four large British lads in a fire engine, and all he had mentioned is that he was bringing a couple of Chinese friends home with him for lunch. Oh boy they were sure in for a shock! Sun Ji explained that westerners were a bit of a rarity in his village and that in his memory only one had ever been, about 20 years ago. The one thing that has been so exceptional about China for me is the reaction of the people to us. They have been so kind and so giving, everywhere we go we are surrounded by inquisitive well wishers. As we pulled up outside Sun Ji parents block of flats we got our usual crowd and Sun Ji was loving being the prodigal son returning to the village of his birth with four rather abnormal companions. His parents flat was located on the 8th floor and after the climb up we were all a little hot, out of breath and a bit sweaty. Sun Ji showed us his parents door and I gave it a tentative knock, his mother opened it and the look of bemusement and shock on her face was simply priceless. As we all filed in she must have felt like she was in the land of the giants. The reaction from Sun Ji's dad was a little different as he locked himself in the kitchen for the first ten minutes, until Sun Ji assured him that we were his friends. Lunch was soon served, and all I can say is what followed was fit for a king, dish after dish appeared, at one point I honestly think we had over a dozen different local dishes of all types of meats, spices and flavours and for over an hour we gorged ourselves. They made us feel so welcome it was incredible, and once lunch was complete James was challenged to a beer drinking competition by Sun Ji's dad, needless to say this resulted in another FTFE defeat! Their hospitality knew no bounds and they invited us to stay for the evening, unfortunately due to our professionalism for the trans-global expedition job in hand we had to politely decline. We said our goodbyes and Sun Ji's father waved us off in Martha, the smile on Sun Ji's face was a picture as he explained to us his father would now be the hero of the town for years to come, for "welcoming the western giants"!
Ross
[flickr album=72157625051616176 num=30 size=Square]