Day 73: We can see the sky!: Zhao Ton to Kunming
After an impromptu and intense game of arcade basketball (Jim – you were lucky!), the day ended sitting in a backpackers bar in Kunming, which is the main hub to South China and the Himalaya. This was entirely accidental as we were following our guide Sun Ji who randomly picked it, what are the chances! Perhaps he was sick and tired of the attention we were getting everywhere we went and was keen to see if this was reciprocated in his favour. Either way despite these "westerners" not being the slightest bit interested in our arrival (philistines!) or indeed Sun Ji (definitely philistines!) we found a table in the corner and listened to Jim Stevens give a debrief of his 2.5 weeks on the expedition. He leaves tomorrow, and will be missed.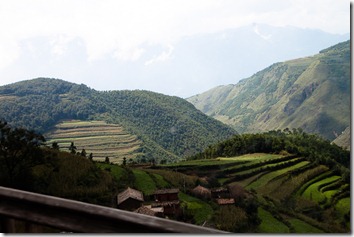 The day itself was particularly memorable for the scenery. Over the last week the landscape has changed from being very flat, and for me uninspiring to stunning mountainous landscapes and today was the best yet as we drove 350km and climbed to an altitude of over 3000 metres.
This was according to Steve's watch although we hadn't punched above the tree line so for me this was questionable or maybe the trees are made of sterner stuff here? Either way the views were stunning and quite unlike the European ranges in terms of the contours and the terracing.
Today was the first day since Day 65 that we had seen blue skies and there wasn't smog in the air so we could see into the distance and really appreciate the panorama. The middle of China is permanently cloudy!?!
On a personal note, as with the scenery, the food has improved considerable over the last week, which coincided with our arrival in the Sichuan province of which Chengdu is the capital. The flavours, dominated by chillies and spice have become more dominant and for me the quality, variety and taste has improved massively typified by the lunch at Sun Ji's parents and the food en route today at a truck stop.
At the truck stop we enjoyed some lunch al fresco and some extreme truck stop football while Martha got a wash. The drive yet again ended with another crystal maze scenario trying to park Martha in the tiniest hotel car park.
Paul Barham
[flickr album=72157625072146212 num=30 size=Square]