Day 75: The Incident, Kunming to Lake Fu Xian.
High Point: Being alive is a fantastic feeling.
Low Point: Starring death in the face isn't a great feeling.
Setting the scene: After a bit of a torrid time navigating out of the hotel car park in Kunming, four very excited lads were looking forward to heading to one of China's major lakes for some swimming, boating and any other water based sports we could find. Unfortunately our desire to see water came a bit prematurely as the heavens opened a down pour of what could only be described as torrential rain followed. Driving Martha in good conditions is an absolute pleasure, driving her on smashed up roads in Russia is scary, driving her in any form of bad weather is dicey to say the least. Martha does not drive like my fiat punto, with Martha weighing in at just under 7.5 tonnes she has a tendency to get a bit excited on the descents, the trick to managing this has been through a mixture of engine and foot braking.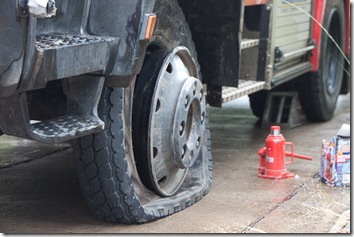 The Incident: Today as we descended down to Lake Fu Xian with Paul at the wheel, the road conditions and the weather conspired against us. To Paul's credit, and a testimony to Keith's teaching, we were only doing about 40km (25mph), thank god! As Martha come over the brow of a hill a short sharp descent followed, Paul naturally tapped the brakes and prepared to change down gear, too late, the rear end of Martha skidded out to the right hand side, which in turn pushed the cab across one lane of the dual carriageway, across the central reservation barrier and straight across the on coming traffic dual carriageway. Paul managed to regain control and brought us to a stop about 10 foot from a very nasty drop off. We were all out the cab in a flash, hazard and emergency signs erected in no time, a man posted on navigation duty to divert the oncoming traffic around us, and mechanics called to check for any serious damage.
The damage: I have heard the saying "They just don't build things nowadays like they use to," so many times, but in the case of Martha this could well be true. As we mounted the central reservation curb stone, about 2 foot high, thank goodness for her high axle position, the front passenger tyre exploded and the back end then sort of bunny hopped (apologies for using BMX terminology in a very serious blog), over the rest of it. Apart from the tyre and about four mini conifer trees which formed part of the central reservation barrier no other damage can be reported, oh except for Paul's pride!
Reflection: To say we were lucky is an understatement. So many different scenarios could have played out, at that precise moment the usual line of on coming Chinese trucks was weirdly missing, the central reservation barrier actually slowed us down enough not to go completely over the drop off, and Martha could have so easily flipped. In true British stiff upper lip style these were not mentioned till much later as we all had to get on with the job in hand. The key to getting FTFE this far has been training and preparation, today we can add a big bit of lady luck.
Ross
[flickr album=72157624947560021 num=30 size=Square]