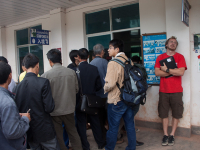 High Points: Zipping through the China and Laos borders in no time at all and the road of many children to Luang Prabang.
Low Points: Goodbyes.
Author's comments: Today was border day, and through past experiences these need to be had early. With this in mind we departed our hotel in the pitch black at 6.45am, and drove the short distance to the China – Laos border. After watching the impressive flag raising ceremony from the Chinese side we elbowed our way through the melee and Paul and I were out of China within twenty minutes. Steve had the task of bringing Martha out and amazingly thanks to the mountains of paperwork Navo and Sun Ji had prepared they followed shortly behind. The entry into Laos couldn't have been more comical; it was like stepping into the nursery rhyme Old McDonald had a farm. After a bit of chat and some strange looks, we located the passport stamping zone. Next was the insurance documents for Martha, $10 and a big smile seemed to do the trick, so much so we were awarded with three cans of larger, our first test?