Day 84 : In the jungle, the mighty jungle
High Point – Night Safari
Low Point – Construction of camp beds! I am officially the weediest member of the stage 4 crew after coming last in the race to construct our beds for the evening.
No point – The boys generally 😉
Today saw the first full day in Thailand and the long drive from Khon Kaen to the national park in Khoa Yai. The drive flew by with the usual chat and rather wonderful mega mix of pumping tunes blasting on the radio ( yep, I was the DJ for today's drive) :-). Soon the long motorway disappeared and we entered the beautiful Khoa Yai national park which is Thailand's most popular national park. As we followed the windy road through the park we were all on high- alert searching for the first 'jungle animal' sighting. We were rewarded 15mins into our drive through the park when the road opened up and we were suddenly at a viewpoint overlooking the park that stretched out below. Everywhere we looked there were gibbons jumping on cars and the most beautiful butterflies flying around us.
After a quick photo stop we jumped back on-board Martha and headed down to the visitor centre which was situated in the middle of the park itself. After a quick inquiry as to the accommodation it turned out we would be camping for the night much to the dismay of Lyndsey and myself. With heavy hearts and the thought of the tigers getting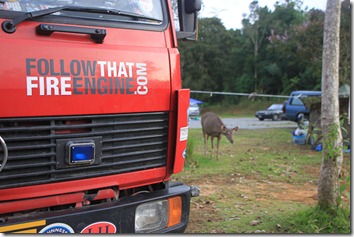 us in the middle of the night we started making our way back to Martha when we spotted a sign saying 'Night Safari'. Well that was it, we were sold and Paul quickly handed over the 500 Thailand baht (around £10) for the 5 of us to have a private safari tour later that night – excited is not the word for what we were feeling at the promise of seeing Elephants, Tigers, Gibbons, deer etc! Once we had our tickets for the evening's entertainment secured we headed to the nearest campsite in the park and began setting up our camp surrounded by lots of Thai's who appeared to be celebrating the weekend with a camping expedition.
After the camp was set we feasted on the rather yummy Vestey food packs ( thanks again Vestey Foods) and as the day turned to night we headed off in Martha to partake in our night safari. As we neared the visitors centre we began to see all the night safari trucks in front of us which were all travelling on the main route through the park we began thinking that this night safari may not yield the sightings we had previously thought. We jumped on board our private safari truck and, with a lovely young lady as our guide, we headed off onto the main road following a procession of night safari trucks. As we moved along the road we finally spotted some deer in the distance and as the tour continued we began seeing more and more of the barking deer resident in the park. As we continued on the HOUR night safari we began to become overcome with the giggles as we began to realise that the deer would be the only animals we were likely to see. The boys even likened the safari to their 4×4 driving experience around a flat field on Jimmy Dare's stag weekend as it is safe to say that the safari was a massive let down and we were more than a little disappointed. As it was we had a whale of time laughing at how rubbish it was! Anyone thinking of going on this night safari don't bother and just head to Richmond Park, London at night with a big torch 😉
Michelle
[flickr album=72157625028765155 num=30 size=Square]