Day 87: Light at the end of the tunnel
High Point – Stumbling across the beach bungalow that was to become our home for the night
Low Point – Sore bottoms from sitting in the back of the cab for hours at a time.  Thanks to http://www.motorcyclegelseatpads.co.uk/ for donating gel seat pads to help save our bums.  Much appreciated! 
Today started on a high with a visit to the 'Swedish Bakery' opposite our accommodation in Hua Hin for a quick bit of breakfast. Paul had already had a few sneaky croissants while the rest of us were asleep and so they came highly recommended! To give you some context to our obsession with food in our blogs, Steve has quite rightly imposed a limit on the amount of western dishes we can eat in a week so that we can really experience the local cuisine. So, to get a breakfast of cinnamon rolls and croissants was sheer heaven. Once breakfast was consumed we hit the road.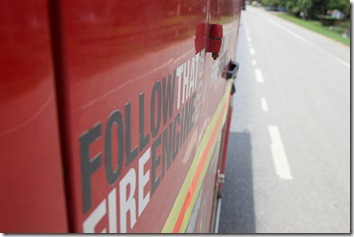 The original plan for today was to drive down to Bang Saphan from Hua Hin which would have been a relatively low mileage day for us but at the last minute our plans were changed as we had received some fantastic news that some members of the press wanted to interview us in Phuket at lunchtime tomorrow (Weds 15th Oct). As such we decided that today we would try to drive down as far as possible on the way to Phuket so that we would be there in time to meet the press.
After 8 solid hours on the road the night started to draw in and we found ourselves in the middle of nowhere. As a rule, the Follow that Fire Engine team have made a decision to never to drive at night unless it is matter of life or death (or the following day is a border crossing). Therefore we began to head to the nearest village to search for anywhere to lay our weary bones for the night as our copy of Lonely Planet seemed to have ignored this region of Thailand completely. After a good 20 mins of driving on various small 'country' roads we saw the lights of a village in the distance. As soon as we arrived Seve jumped out and tried to locate anyone who could speak English. After trying to talk to some bemused locals he finally managed to find a very helpful shop keeper who informed us that there were some beach bungalows we could stay at in the next village. A beach bungalow was just what the doctor ordered but we were still a little dubious as to whether these existed as the locals English was a little limited. That said we continued down the road (which was by now pitch black) and we stumbled on the 'beach bungalows'. Well, even though it was dark we knew that lady luck was shinning down on us yet again as our lovely beach bungalow was situated on the shore of a beautiful bay. The only downside was that they only had 1 bungalow available for the night so this meant us ladies would have to share with the boys.
The fact that our bungalow was on the bay was not the only plus as there was also a  lovely small and friendly bar just a short walk along the beach which served cold beer and yummy food. It was here that we set up camp for the night and put the world to rights over a few beers and a couple of cheeky games of snog, marry, avoid. As yawns started to circulate amongst the crew we made our way back along the sea shore to our little bungalow and it was finally time for us Walton's to fall fast asleep.
Night all, MM x
[flickr album=72157625168643048 num=30 size=Square]