Martha's Long Journey – The BOOK !
Martha's Long Journey .. The  Book
Good friends of FTFE Rebecca and Nicola have put together a beautiful book about Martha's Long Journey.
Buy it here, all profits go to our three wonderful charities. Click on this image to buy.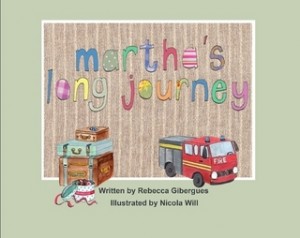 A MASSIVE personal thank you from me and the team for this epic effort.  Talented ladies !!     Cheers Steve
Rebecca's Story
"Once upon a time I was browsing in a bookstore, fruitlessly searching for a really good book about fire engines for my 3–year old nephew Joseph. It occurred to me that I already knew the story of the world's greatest fire engine: Martha! All I had to do was to write it down, find a fantastic illustrator, publish it, market it, and my nephew would have the perfect book.
And so the book project was born. This one's for you, Joseph!"
.
Nicola's Story
"My problem is I can't say no! I hope that my drawings will make someone smile and the money raised from our work will help make a life better. So in support of friendship and of Martha, I share my imaginings."
The illustrator and author are both friends of Steve Moore, the expedition leader. They have never met; Rebecca lives in Chicago, USA and Nicola in Bournemouth in the UK. The inspiring story of Martha's voyage around the world brought them together and kept them hard at work for some time on the story of "Martha's Long Journey". We hope you and your children enjoy reading it as much as we enjoyed putting it together.
.
[flickr album=72157626141508817 num=5 size=Square]
.