A message from Martha
Hello to everyone back home,
Beijing really is a wonderful city with lots to see and do. The crew went off to have some fun and meet up with friends, including Ben, who had left us at UB, whilst I was left in the car park as usual! Still I mustn't grumble, it was a good opportunity for a bit of Martha time.
James is leaving us in Beijing but I'm not sad because he's going to do some travelling before rejoining us again in America! And Ailsa, who used to live in China and speaks the language fluently, is sadly off to meet up with old friends and explore more of China, have fun Ailsa! Our new crew members, Jim and Paul are flying in from London, but they seem to be taking their time about it. You'll remember Paul who took part in the Lanzarote Ironman to raise money for FTFE and achieved an incredible 12hrs 11 mins!
Meeting in Tiananmen Square, all wearing their Follow That Fire Engine T-shirts, the combined crew and Sun Ji drew quite a crowd of curious Chinese people eager to take their picture. As they papped away the crew enjoyed their short brush with celebrity status, was this going to be a taste of things to come, I hope the fame doesn't go to their heads…
Leaving Beijing we headed to Datong, stopping en route to explore The Great Wall of China. I must say it looks very impressive, they say you can even see it from space. The crew were dumbfounded by the whole experience, I've never known them so quiet, even Steve was speechless. The road to Datong was very good, except that, as with all the roads in China so far, there was too much traffic for my liking. The other drivers, while they appear to be crazy, are actually very skilful and not aggressive at all, just trying their best to weave their way through and making use of any little gap, however small. Most of them are quite pleasant, wave to us and even try to chat as they cheekily slip past.
After a night in a hotel the boys were keen to get going to our destination Pingyao, which is one of China's ancient walled cities and was one of the main financial centres of the country in the 14th century. We went via The Yungang Grottoes (Sun Ji is determined that the boys should experience some of the culture and history of this country) and while they were inside I made friends with a couple of Chinese fire engines. When we finally arrived Pingyao the plan was to park outside the walled city, but they found a large gateway and decided it would be fun to navigate the little winding streets and alleyways. The locals were rather surprised but delighted by our presence.
There was a slight problem in the morning; when we tried to leave the city we found the road had been barricaded and work had begun on making the gate smaller so large trucks (like me) could not use it, how's that for timing? We had to find another way out that took rather longer than anticipated, a great deal of maneuvering and a bit of choice language!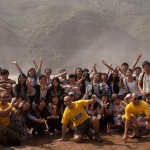 As our departure was so late we had to change our plans and headed to Linfen – another highly populated and heavily polluted city. In the morning we went to see the Yellow River – the 6th longest river in the world and the cradle of Chinese civilisation – it was along its banks that the nation was first built. It's called the Yellow River because, funnily enough, it is actually yellow – a phenomena caused by the 'loess' it carries (yellow ochre sediment). In China they talk of 'when the river flows clear' in the same way that we talk of 'when pigs might fly' – it is never going to happen! We wound our way around the Luliang Mountain and eventually came to the spectacular Hokou which is the only yellow waterfall in the world and falls a distance of 50 feet. Needless to say the boys soon had the crowds gathered round them and the flash of cameras started again, I've noticed the Chinese don't like to miss a photo opportunity.
We spent the night in Yichuan. It's embarrassing to say but my fuel tank needed fixing again but luckily Sun Ji found a place to get some welding done. That took most of the day so it was very late by the time we reached Xi'ang. The following day the boys went to look at a very famous place where there are soldiers, horses and whole armies made of terracotta. Very strange if you ask me.
We drove from Xi'ang to Guangyuan, a distance of only about 280 miles which shouldn't have caused any problems, but the traffic jam into Guangyuan was 2 and a half hours long and some lessons were learnt along the way… like it's not a good idea to turn on the fan when you're behind a lorry carrying beehives! I swallowed several dozen bees which was not at all pleasant to say the least. I managed to eject most of them into the cab where they caused quite a little consternation! I'm sure some of them are still lodged in my engine, I think purely for humanitarian reasons, when the boys get bored and lethargic I'll encourage some to escape, tee hee!
When Sun Ji joined us he was quite a quiet chap. He has started to come out of his shell; I think that the constant exposure to the boys has given him only two alternatives – and crying would be so unmanly!
From Guangyuan we went to Longzhong. Longzhong is over 2,300 years old and is very important in Chinese culture as it epitomises the spirit of feng shui – the oneness of man with nature. I wasn't allowed into Longzhong, which I think was fair enough really.
From Longzhong we drove to Chengdu where we were given a heroes welcome by NAVO.  The crew and I stopped the rush hour traffic for more photos and then they were taken to a 5 star hotel (the Crowne Plaza) and looked after like royalty. I think they deserved it.
Today was very exciting, we visited Chengdu fire station which is a huge, contemporary, purpose-built building in the centre of the city with modern equipment and appliances. Their engines made me feel a bit old and past it, but the firemen still welcomed us like long-lost relatives. In the evening the boys went "out on the town" and took me with them for once, an unexpected treat!
After a rest day we were up early the next morning as the crew were eagerly anticipating their visit to see the Pandas. They loved the Pandas and couldn't help noticing their resemblance to Paul Barham, well everyone loves PB!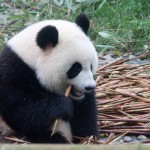 You've all seen photos of my crew? Can you imagine the shock if you opened your door and found that lot on your doorstep, all dressed in bright yellow like great big sunflowers? That's exactly what happened to Sun Ji's mum! Sun Ji forgot to warn his parents he was bringing four hungry bears home for lunch. Surprise!
After being treated to, what I am told was, an absolute banquet, we made our way to Leshan and the following morning we visited the biggest Buddha in the world – all 230 ft of him. Then back on the road and on to Yibin – another large city (pop 5m) with a very long history, none of which has survived the rush to build and expand. In the morning, after a short delay while about 300 of the local schoolchildren checked out the strange giants, we were on our way again. We were heading to Zhaotong and, at last, we got a glimpse of some real mountains. Zhaotong is in one of the poorest parts of China, its economy being reliant on agriculture. This is one of the few places where the government encourages the young to leave. This city definitely had a different feel to the others – Jim didn't like it at all.
We were all glad to leave in the morning and be on our way to Kunming. It was with uplifted spirits that we finally left behind the smog that seems to cover most of China and climbed up into the mountains. These mountains are beautiful and totally different to any others we have seen. Because land is scarce and the population so large every possible space has to be cultivated by creating mountain terraces.
In Kunming Jim had to leave us to get back to his day job, been nice knowing you Jim. The others spent the day exploring and sampling some of the local customs.
After a day of relaxation they were keen to get going, we headed for Lake Fu Xian, where the crew were planning to indulge in a little water sport. Unfortunately the only water they saw was torrential rain. We were descending a rather steep hill at a cliff edge, with Paul driving, when disaster struck – he touched the brakes on a particularly slippery bit of road causing my back end to lurch to the right. My front end went to the left, forcing us across the second lane and over the crash barrier in the middle of the dual carriageway. As we went over, the front left tyre exploded leaving me with no grip and we kept going left and down, left and down until, after Steve had shouted "Hang on, we're going over!", Paul regained control and we slipped and slid to a stop a mere 10 inches from the cliff edge!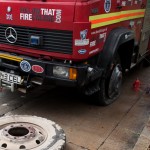 Given there is so much traffic on Chinese roads it was a miracle we didn't hit anything. The angels really do smile on the Follow That Fire Engine crew! The boys showed great presence of mind and quickly got out the hazard signs and started directing traffic away from the danger. Rescue arrived from the nearby town and I was fitted with a new rim and tyre (miraculously that was the only damage, apart from to the central reservation). Much later it was with great relief that we arrived at Lake Fu Xian. I need a while to recover from the shock so I'll say cheerio for now.
TTFN
Love to everyone
Martha