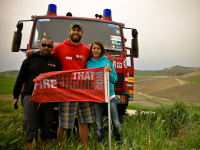 Day 262: Circumnavigation
High point: Hitting our second antipode which means we're even closer to completing full global circumnavigation, oh yeah!
Low point: Waking up freezing and convinced our tent was going to blow away in the gale force winds
No point: Why do Mehul and Steve keep speaking to the bewildered locals in French?  Who is Delboy and who is Rodders?  "Mange tout Rodney, mange tout".
Quote of the day: 'Merci beacoup'
I'm a big fan of camping but my four seasons sleeping bag just doesn't cut the mustard, on top of that the wind howling all night and rattling the tent didn't make for the best sleep I ever had, but I mustn't grumble.