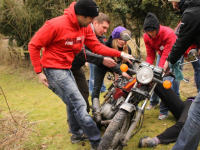 FTFE Crew  spent a weekend in Herefordshire and attended the Surviving Adventure™ course donated and run by one of our integral supporters and sponsors, Prometheus Medical Limited www.prometheusmed.com.
Quite simply put FTFE crew were equipped with the knowledge, skills and confidence to potentially make a difference in a life and death situation, not only on the expedition but in their day to day lives. It was a bespoke two day course, and gave those individuals with little or no medical experience (most of us!), the confidence and understanding to react and manage an emergency medical situation when travelling off the beaten track or in a remote environment.
It was high energy and very 'hands on' and, once theinitial lectures were complete, the course progressed to a series of fully realistic exercises. Every lecture and scenario was presented and run by a medic, mountaineer or former Special Forces member who has encountered such a scenario first hand.