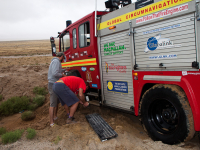 Location: Sainshand to Zamyn-Uud
High Point: Getting stuck in the mud!
Low Point: This was to be the end of our stint in Mongolia and as that thought crept into the minds of the crew, you could see a disappointment beginning to wash over our faces. Pretty much in its entirety, Mongolia has been an absolute highlight, a firm favourite amongst all the those who have trucked across it's unyielding terrain in Martha.