Day 53 : Never Can Say Goodbye
Location: Sainshand to Zamyn-Uud
High Point: Getting stuck in the mud!
Low Point: This was to be the end of our stint in Mongolia and as that thought crept into the minds of the crew, you could see a disappointment beginning to wash over our faces. Pretty much in its entirety, Mongolia has been an absolute highlight, a firm favourite amongst all the those who have trucked across it's unyielding terrain in Martha.
Author's Comments: It was our last day driving in Mongolia and she must've known we were going, she threw everything she had at us, as if to say 'you can't go! Look how much fun it is here!' The day dawned grey and raining heavily (the first big rain that Steve's seen since Poland) and it seemed to suit our mood. With heavy hearts we packed up Martha and set off from our hotel in Sainshand. Now James claimed he's never got us lost when he's been on navigating duty (!) however an hour later we were heading towards a building which looked remarkably like our hotel. Again. Take two on the departure front and we finally headed out of town and back into to the open emptiness of the Gobi desert. It's difficult enough finding your way through this land in the best of conditions, relying heavily on GPS coordinates to give us an idea of where we are and an old skool compass to make a best guess as to which way to head, not to mention the bumpiest terrain that our poor backs have ever felt. In lashing rain and very low visibility, Mother Nature helped Mongolia kick it up a notch. There was a microsecond spent considering whether we should sit tight for a few minutes and let the rain die down…but of course that idea was quickly quashed and the smell of adventure was ripe in the cab once again (well, that and the odour of some seriously stinky socks!). On we ploughed, sometimes literally, through mud, sand, gravel, huge puddles and whatever else we encountered. It was the bumpiest ride our lives but Martha never complained once. Good girl!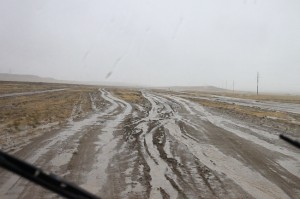 The most common issue in Mongolia – one that we've all mentioned a million times but it still confounds us! – is that there are very few actual roads, more often than not you make your own or pick and choose between dirt tracks. So it was certainly a surprise to us to catch a glimpse of what looked like a brand new tarmac road stretching into the distance in a line straight enough to make the Romans proud. After driving alongside it on a scrappy bit of track for long enough, it looked like our off-roading time was over, Navman James gave the greenlight to Helmsman Steve to guide Martha up the bank and back onto a road we went. Sounds simple enough but as it turned out, this road is far from finished; the surface is negotiable (Martha's happy to have a crack at anything) but there are barricades of rocks or great heaps of sand every kilometre or so to keep the traffic off from having a cheeky drive until it's finished. We played slalom with them for a while, down the bank, back onto a track, back up the bank, back onto the unfinished road and so on, until one fateful descent from the road saw Martha bogged down, perched at a precarious angle and wheels free spinning to nowhere. Now normally you'd expect a few worried faces and harsh words exchanged in such situations, but not with the FTFE crew! Eyes opened wide, huge grins broke out as everyone realised that they were stuck in the mud! This was a challenge to be relished! Everyone bounced out the cab and raced to get the shovel and recovery boards needed to free our little lady from her boggy situation. One practice attempt, a few adjustments and she was free! BOOM! Thanks here must go to the Ian Wright Centre for the incredible off-road & vehicle recovery training they gave us – vital stuff indeed.
After the blame had been (un?)fairly shared out for getting us stuck and we were happily back off-road, we forged our way on, bouncing every metre of the way. There was an awful lot of ground still left to cover, so fuelled by the ever-present pringles, coke light and bottles o'water we cracked on, with the most eclectic collection of soundtracks and random chat to keep us going and alert.
We had so far survived every challenge Mongolia had thrown at us but she had one trick left up her sleeve… still miles and miles from our destination, darkness began to fall. Imagine the darkest place you can, double it, now close your eyes and go inside a cave and triple that – that's how dark the Gobi desert is at night. Now imagine trying to drive through it. And remember there are no roads, no signs, no streetlights, no nothing to follow. Did we give up, park and set up camp for the night and settle into ration packs and sleeping bags? Nah! Of course not! Have I mentioned that this is the FTFE expedition? Quitting is just not part of the FTFE's repertoire. We kept on, taking a slowly but surely approach to the bumps & lumps of whatever track we could find, all keeping our eyes peeled and scanning the area ahead with Martha's big searchlight every now and then. Mongolia threw flocks of low-flying bats and hundreds of scampering marmots into our path for us to dodge too, just for good measure.
I have to admit that when the first tiny pin-prick of light appeared on the horizon, there were cheers and elation inside the cab, not that we were lost, but that it was reassuring to know we were on the right course. A little while later, to the sounds of Empire of the Sun, we arrived in the bright lights of Zamyn-Uud, thoroughly exhausted but very content that we had conquered the desert. Dinner and a big sleep were all that were left to accomplish. Sweet dreams and goodnight Mongolia, you've been a blast, you'll be greatly missed.
Ailsa

If you like our blogs, please donate to our wonerful charity. Remember, all monies go to the charities.
FTFE is 100% self funded by the crew. 
.
Photos of the Day
[flickr album=72157624936647692 num=30 size=Square]
Video