Day 152 : Hi Martha, Hi Amy, Hi Steve….hi-vis!
High point: For Amy, a smacker of a kiss goodbye from the captain
Low point: For Steve and Amy, saying goodbye to their new friends on the Le Mans Express
No point: A one man moped escort out of Auckland (AKA Jamie Abela)
After 9 days at sea aboard the Le Mans Express it was time for Amy, Steve and Martha to get their land legs back on and kick off stage 6. Auckland has been swathed in sunshine for weeks now so we were all looking forward to some sunshine and incredible views on the first day back on the road….from early morning however, it was clear we were in for something a little more…er…British. Rain….a lot of it.
..
After numerous phone calls and a few 'er, you might have to try someone else' responses Chris managed to secure us access on to the wharf so that we could meet Martha and co straight from the ship…it was made very clear that this NEVER happens but in true FTFE style we charmed our way in.  It's so unusual for the general public to be down at the wharf that our taxi driver took some convincing to drop us off there…after some nervous laughing from him he left us to it. Auckland Port is one crazy, busy and intimidating place and after standing in the rain with all our belongings, waiting for our 'contact' Chris and I started to feel like we were in an episode of 'The Wire'.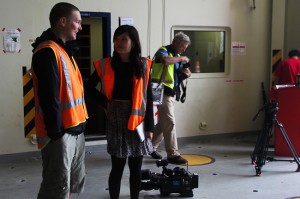 We were lucky enough to have TV3 with us to film the arrival of Martha so once we were all gathered it was time to brave security and hit the wharf…cue hi-vis jackets and sensible shoes.  The 'wharfies' (guys working on the wharf…new NZ word #1) were not at all impressed with my flip flops (aka 'Jandles' – new NZ word #2) so there was a quick scrabble for something a touch more suitable. After being escorted to the beast that is the Le Mans Express we all got a little bit excited and instead of staying on the port as instructed we were soon on the ship, meeting the awesome crew who have really looked after the FTFE guys and generally getting in the way of customs and bio security! The main headache of the last month has been the worry of getting though NZ bio security in good time but after a nervous wait, Martha got her 'passed' sticker in record time and we then knew we were soon to be on our way. Good times! There were a few more strange looks from the wharfies as we rallied around with the film crew, doing our daily checks and had a manic panic when Steve thought he'd lost the golden form that would get us out of the port!
Chris and I had expected to have a wrecked Amy and Steve on our hands after hearing their sea sickness tales but they were on remarkably good form so we said goodbye to the crew, boat and port and hit Highway 1 – destination Taupo! We all thought we saw Hobbiton….a few times so we definitely need to brush up on our Lord of the Rings stats and facts. We were soon driving in darkness in the pouring rain…the perfect opportunity for Chris to have his first drive since his lessons back in London with legend Keith B. I think he was being super careful and desperately wanting to redeem himself from the 360 UK tour driving injury debacle (random leg swelling after his first long drive in Martha) but there were no new driver dramas and the sea-land switch for Amy and Steve was seemingly a breeze. Stage 6 day 1 done…a couple of days on the road and then we're on the inter-island ferry. We might not remind anyone about that just yet though…
A very surreal day on the port but a smooth start to Stage 6…very exciting, hope the sun decides to make an appearance soon!
Kate
[flickr album=72157625489870083 num=30 size=Square]