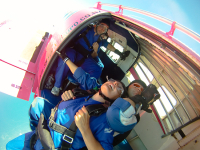 High Point: 15,000 ft.
Low Point: The ground
No Point: Feeling sick as a parrot after my skydive
Day 165 was one of the shortest driving days of stage 6 but for me it was one of the hardest. Most people are aware that I have a rather competitive streak and within the FTFE crew it's well known that I like winning, dominating, being noisy and excited. So when we arrived Queenstown – the adrenaline capital of NZ people people were a bit unsure of why I didn't want to throw myself off a cliff, canyon or out of a cable car in the name off bungee related activities. Steve was not sure of whether to publicly mock me, goad me or laugh in my face for not being extreme. Instead of these, he decided to not say anything at all and opted for acting like he completely understood if I didn't fancy being part of the extreme crew. This was worse than the public goading and he knew it.