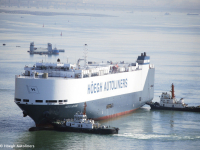 High point: The Hoegh Beijing is 12 stories high!
Low point: Leaving the lovely Abela's and beautiful NZ in a rush
No point: Steve talking to the Chinese crew in Chinglish, surely that makes him more difficult to understand!?
Sporting point: they have a basketball ring on deck, Steve is a very happy boy
Huge Fact : You can fit all the land in the entire world into the Pacific. It is that HUGE !!
As I write we have just boarded the Hoegh Beijing, our home for the next couple of weeks. We're waiting to leave Auckland Port to cross the Pacific to Mexico. We need to leave the ship in Mexico and meet Martha in Grays Harbour on the west coast of the US. Due to the unprecedented nature of what we are doing, there are no USA customs procedures in place so attempting to disembark the ship in the USA could fail, the outcome; Martha is driven off the ship in the US… myself and Steve are stuck on the ship and head off towards Japan, not so cool! So Mexico for us, the USA for Martha. We have no real idea of where in Mexico we are getting off so fingers crossed it won't be too nasty. A little adventure awaits. The good news… we still get to cross the Pacific and more importantly cross the date line and equator on board a ship! I believe there is a ceremony for both, wish us luck!
.