Day 82 Kiddies in a sweet shop that aren't afraid of the dark
Have you ever been really close to making an error only to see the light at the eleventh hour? I mean a really massive error of which the ramifications will stay with you for a lifetime. An example would be agonising over a food menu, full of panic about what to choose before "settling" for pasta. As the waiter is about to leave you see the dish you have ordered turn up on the table next to you. Good god, you ordered pasta what the hell were you thinking? You can whip that up in the comfort of your own home any day of the week. You change your order to a steak, medium rare with pepper source! Lovely! A close one I think you'll agree.Tubing. Lonely Planet describes this as "popular rite of passage on the Southeast Asia backpacker circuit……virtually everyone goes tubing who visits Vang Vieng"….unless they order pasta.
We always intended going Tubing, although being an expedition this was purely for PR purposes, any enjoyment we were going to derive was purely secondary and of little concern…..
We arrived into Vang Vieng the previous day as it was getting dark. The road was windy and uneven which meant progress had been slow so our plan to tube that afternoon had been axed for us. Steve, Matthew and I settled for some rafting down the Nam Song River the following morning. We were told they were grade 4-5……
As we rafted or rather sun worshipped our way down the treacherous mill pond like Nam Song River, taking the hit that we had been duped, we stumbled across sweet shop after sweet shop after sweet shop that would be open that afternoon. It quickly became obvious how close to pasta we had been…..plans needed to be changed and there was absolutely no question of us not eating steak that afternoon.
All 5 of us turned up in FTFE standard issue kit at the first riverside sweet shop, rubber ring in hand on a Tuk Tuk to join the hoard of Western backpackers already tucking in. We had shared the journey with some travellers from Ireland. They had been tubing the previous day and were back for more sweets. We were excited.
We wasted no time.
The next five hours was spent floating down the river on a big rubber ring (Tube) and being let loose in a multitude of sweet shops dotted along the riverbank of homemade giant zip lines, rope swings and water slides to a back drop of an insanely beautiful river valley. Every shop down the river was banging out some monster tunes and had a small army of helpers throwing out ropes with a plastic bottle attached to the end to pull you into their shop.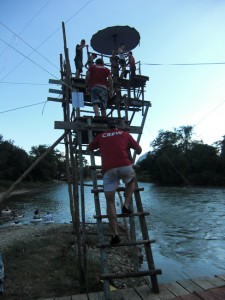 On one of these homemade constructions, which are substantial to say the least, Steve put his weight on a hand rail only for it to come away in his hand. I'm not sure what surprised me more. Either witnessing this event, or there actually being an "attendant" at the top to hand it to (the only one I saw all day) or the "attendant" on being given it promptly throwing it in the water with a grin. Health and Safety would have had a field day but this is Laos. Suffice to say we were very careful to pick our landing points in the water where everyone else was.
Throughout the afternoon many new friends were made, with the FTFE message was continuously being conveyed and heard being shouted before the jump. The things we have to do for FTFE……..
The ladies sensibly exited the last sweet shop in good time to float back to town before dark but we remained as we wanted to smash the record for the most number of people on the slide in the last shop. (Official New World Record of 5 for FTFE). Awesome!
When we did finally leave we were told it would be dark by the time we got into town but we were full on adrenaline and quickly decided to push on down the river as opposed to getting out early at a bridge and taking a tuk tuk back.
It gets dark super quick in this part of the world at this time of year. When the sun goes down darkness quickly follows. It wasn't long before about 8 of us were floating down the river in the darkness and the wind was rising. A bittersweet benefit of having eaten pasta earlier meant that we were familiar with the river and knew the exit point so we're able to reassure the growing band of people joining us who were lost on the river. We weren't afraid of the dark.
We found the exit point which was an Island connected to the riverbank by a rickety wooden bridge but the fun and games hadn't finished yet. To mark the day and our safe return to dry land we had an obligatory beer at the solitary tiny bar on the island and there was much rejoicing. At this point the heavens opened the intensity of which can only be described as biblical proportions. The temperature dropped quickly and we sought refuge en masse in the back of the bar which was in fact the barman's house, hugging together to keep warm as several had started shivering uncontrollably. We we're then hit with a power cut and plunged into darkness.
Thankfully a combination of being a little sheltered and the rain easing off meant we could make our way like drowned rats across the now river-esque island, over the bridge and onto the mainline to return our tube and receive back our deposit.
The morale of the story is; In Life why have Pasta when Steak is on the menu……….
PB
[flickr album=72157625131520466 num=30 size=Square]