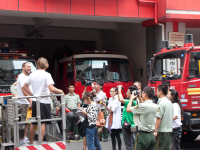 Location: Chengdu
High Point: Being treated like celebs and receiving £500 in donations and some items to auction.
Low Point: Taking an absolute hiding from the Chinese firemen
Now this might surprise you but despite all being very talented sportsman (yes even Steve……so he tells me…at what I'm not sure?) we haven't previously represented Blighty in competitive sport. What a disgrace!