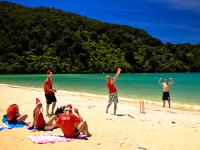 Merry Christmas to everyone, I hope Santa has been good to you this year!
Being on the other side of the world at Christmas time feels funny.  They don't really do it like we do.  If you didn't know it was 'the season to be jolly' it might feel like any other summers day.  All week we'd been trying to make ourselves feel Christmassy; tinsel in the cab, Christmas songs on the radio and even a little Christmas tree from the 2 dollar shop.  Nothing seemed to be doing the trick.  We still missed our family and friends, the cold, crazy Christmas shoppers and even brussel sprouts.
On Christmas day we decided to trade in the traditional turkey and trimmings to do Christmas how the kiwis do it.