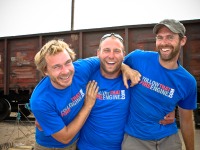 Location : Choir to Sainshand
High Point: Being Back on the unmade roads of Mongolia for one last time as we made our way to the Chinese border was something we all enjoyed in tough and long day on the move. You really feel like you have earned your dinner on days like this!
Low point: It the first day when I really thought about FTFE having to leave Mongolia. Living each day as it comes has been wonderful here and its hard to imagine being anywhere else right now.
No Point: Steve's "Sleep talking" at 12.30AM that panicked me into thinking we were about to be run over…… In fact the train was about a kilometre away.