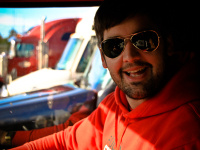 High Point: Everyone at Station 1, Portland Fire Department. What a great bunch of people. Thanks again to all of you for making us feel so welcome.
Low Point: US border control. Was there really any need for them to be so grumpy?
No Point: Bridge height readings on the bridges. It really is too late to do anything about it by the time you see them.
Quote of the day:  "Whatever you do, do NOT touch the dog!"
We departed Vancouver this morning after a farewell coffee with Captain Mike Tookey and the crew at the fire station.  They even gave mucky Martha a good clean for us.  If everyone is this welcoming then we are in for an even better time in North America than we anticipated.