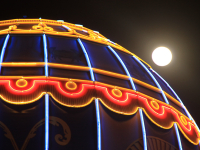 High Point: The Bellagio hotel switching on their musical water fountains especially for us. Is there anything that we can't get done with FTFE?
Low Point: "I asked for two cheese burgers but you gave me two hamburgers. Why did you do that? Where's my cheese? Ok did you honestly just put cheese on these burgers and give them back to me?Yeah but now they're cold. All I want is my cheese. I'm not being awkward I just want what I paid for. No, I want you to make me fresh ones not just heat them up again. Thank you. Good night."
No Point: Playing Black Jack when the table has turned. Take your winnings (or in my case lack of winnings) and get outta there. Quick.